Launch
Integrated Security Solutions
Transmitters
Introducing TNA Connect V2: The universal gateway to the evalink ecosystem
Installing security equipment and other systems can be challenging. Complex configuration tools, finding a device that supports all required protocols, etc. 
The problem of finding a reliable yet cost-effective device, especially during the global chip shortage, has posed a significant challenge for most installing businesses. 
We understand these issues, and we've addressed them with the new TNA Connect V2. 
Discover what's new 🤩
Meet the TNA Connect V2 – Your
future-proof partner

in connecting systems

The TNA Connect V2 is not just an alarm transmitter; it's a well-designed gateway developed with all the challenges in mind when interconnecting different systems - IoT devices, process-critical systems in industrial automation, or burglary alarm panels. 

With TNA Connect V2, it's straightforward to receive data from various systems and harness the power of the cloud via evalink talos - our certified, cloud-native alarm management platform.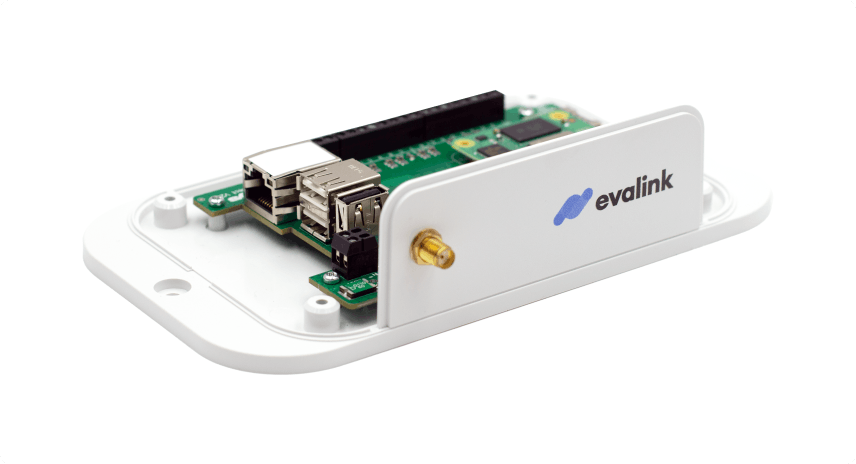 TNA Connect V2: Advanced technology for
more reliability
We've taken special care to only use genuine, high-quality components to guarantee smooth operation for a very long time.  
The TNA Connect V2 features the latest technology for any application – whether by processing large amounts of data via MQTT, converting serial-based protocols to IP, or transmitting the state of open/closed switches. With the many integrations, you can quickly receive data from various devices. 
New architecture: With up to 8G of RAM and up to 32G of high-performance eMMC flash, it's not just for today but also for the future. 
Gigabit Ethernet: Ready for high-throughput applications like video streaming.
Modularity: While the board has many functionalities, the feature set can be expanded with RS-232/422/485, Wi-Fi, a PSTN-to-IP converter, and more. 
Works anywhere: Operational between -20°C and +80°C guarantees reliability even in the most challenging environments. 
Integrations: From MQTT and Modbus TCP/RTU to Serial Forwarding, the TNA Connect V2 plays very well with other devices, ensuring data exchange 'just works.' 
Deep integration with evalink: Offering a unified, seamless alarm management experience across all your installations. 
Periodic firmware updates: Enjoy free updates that ensure the device's security and get new functionalities, such as support for additional protocols. 
In a nutshell, TNA Connect V2 is more than just a product; it's a commitment to a universal device and its cloud-based management platform. This relationship ensures easy use, unmatched versatility, and availability for a smooth operation -24/7.
Solving challenges

, one transmission at a time

Erase complexity: Configuration has never been more straightforward, thanks to the device's web server, which is accessible in any browser without needing additional software. Its intuitive step-by-step design allows for quick setup and configuration changes. 

Embrace modularity: Its modularity is designed with future demands and extends to primary components like memory and storage, ensuring scalability for future challenges. 

Ensure compatibility: Offering numerous ways to integrate other devices and systems, compatibility issues have become a thing of the past. 

Establish reliability: Built on a rock-solid foundation of high-quality components and the latest technology, the TNA Connect V2 is predestined for high-security and high-throughput applications. 

Save costs: Instead of having multiple devices to get the job done, use the many integrations the TNA Connect V2 and evalink talos - our alarm management platform - offer.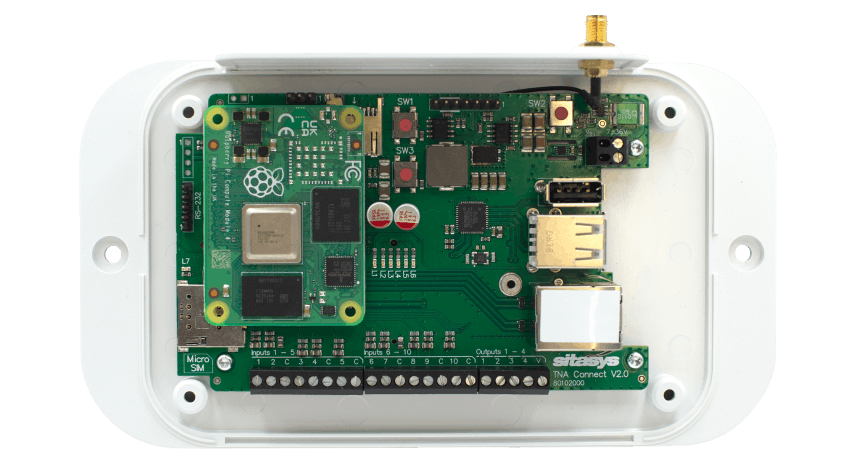 Your
gateway to the evalink ecosystem
The TNA Connect V2 features an accessible and easy-to-use configuration page on its internal web server - all necessary is a browser. In addition, the TNA Connect V2 can be configured remotely via evalink talos - our certified alarm management platform - too! 
It allows you to manage, monitor, and control your installations from anywhere. All data from the TNA Connect V2 is accessible here and can be used in intelligent workflows with thousands of possibilities - whether it's to notify someone via Text-to-Speech, an SMS, or escalate it to a technician or an alarm receiving center. 
Unlock the full potential of your security installations

with the TNA Connect V2

Ready to transform the way you connect systems? 

Learn more about the TNA Connect V2 and dive into a world where each specification is not just a feature but a promise to ease your installation journey, simplifying complexities and ensuring that your clients' security installations are future-proof and reliable. 

Explore the TNA Connect product page to uncover all the tech details, and reach out to us for any inquiries regarding orders – we're here to assist you!
"The TNA Connect V2 runs on a brand-new, state-of-the-art architecture, specifically designed to be one step ahead regarding reliability, stability, and performance. At the same time, we've kept everything customers know and love - its intuitive configuration, centralized management via evalink talos, and much more. Doing so is our way of making the technician's job easier. I'm excited to see the new TNA Connect opening doors for installers and companies in many ways!"
Boosting SOC Service Quality and Operator Well-Being through Security Automation
12 Sept 2023
Read article