Introducing the evalink Documentation Hub – Your gateway to empowered learning
💙 We're excited to launch the evalink Documentation Hub at https://documentation.evalink.io/, designed to empower users in every aspect of their evalink journey. 💙
An elevating learning
experience tailored to your role
At evalink, we believe in the power of personalized learning. We recognize that each role within our platform plays a pivotal part in maximizing its potential. That's why we have taken a targeted approach to ensure that every user has the knowledge and expertise they need for a smooth and successful evalink journey.
The evalink Documentation Hub organizes content by role, guaranteeing that you have access to the most relevant and tailored information. Whether you are an Administrator responsible for account configurations, a Manager supervising operators and creating processes, or an Operator, processing alarms, you'll learn articles that cater to your unique responsibilities—all accessible from any page of the evalink Documentation Hub site.
Enriched content and simplified interface for
seamless onboarding
The evalink Documentation Hub helps you gain hands-on experience while exploring evalink. No matter your learning style, the articles will enrich your skills in automation, workflows, integrations, call management, analytics, and more.
Through its user-friendly interface, navigating through the evalink Documentation Hub is effortless:
The Search engine is accessible from all pages and is role sensitive. For example, if you're reading the Operator's documentation, you'll see first the results related to Operators. The Search engine is the easiest way to find what you're looking for in the documentation.
Our home page is intelligently organized into blocks, providing you direct access to content tailor-made for your role or documentation about the products of our ecosystem.
A comprehensive introduction section will help you start with the Documentation Hub and find your way around.
The left-hand main menu provides a comprehensive overview of evalink's key functionalities, including sites, contacts, integrations, and more.
Within each article, a convenient, right-hand menu lets you quickly grasp the content, ensuring you find the information you need without any delay.
From the top menu, direct access to the evalink Help Center to submit tickets when you need extra support.
A newsletter sign-up to receive new documentation articles straight to your mailbox!
The Documentation Hub, dark mode option, enhances readability, ensuring a comfortable reading experience even in low-light settings.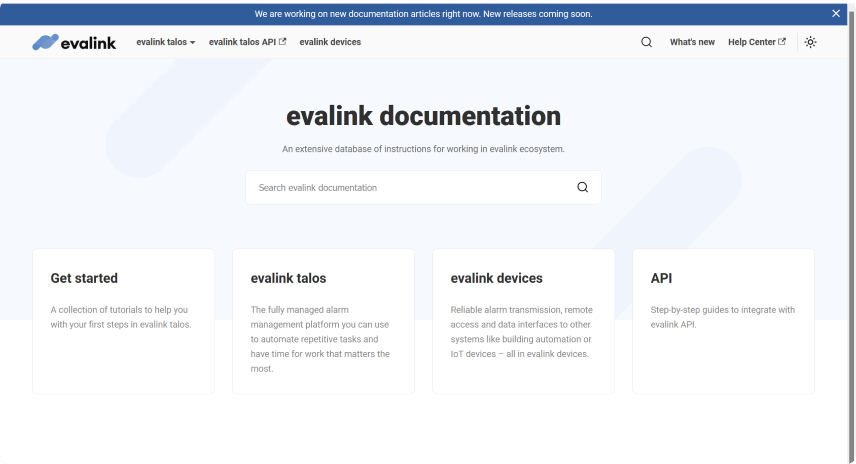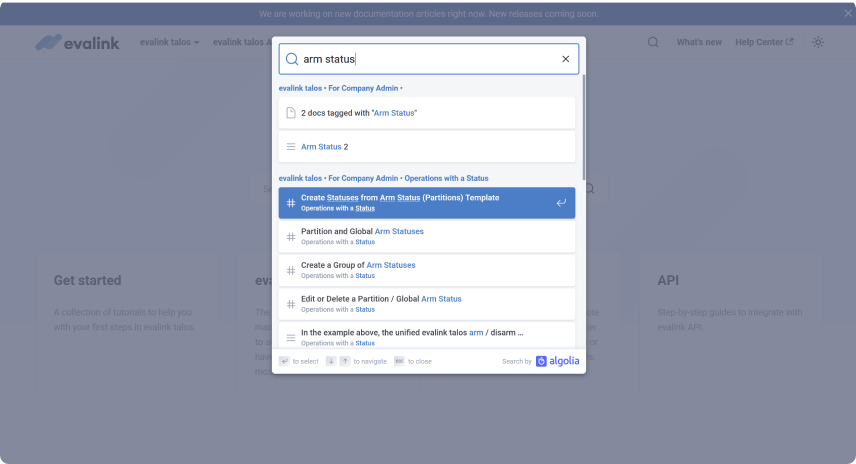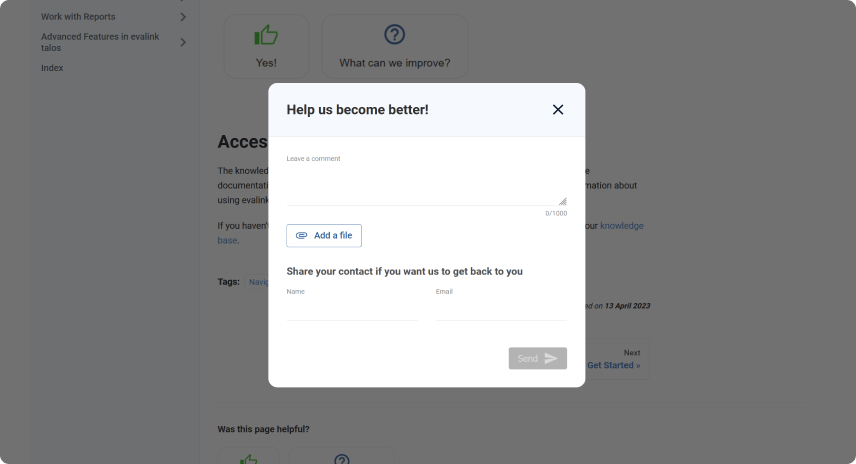 Join our thriving community and
contribute to the collective knowledge
We value the strength of our community and thrive on feedback. Our Documentation Hub provides a platform for users like you to share valuable input as the site is constantly built upon. To continuously improve our documentation, each article features a feedback form, allowing you to play an active role in improving our content. Your feedback and contributions will further enhance the collaborative and dynamic ecosystem we are building.
Access

the evalink Documentation Hub

Visit https://documentation.evalink.io/

Or login to your evalink account and navigate to your profile. You'll find a 'Help' section where you can click 'Documentation.'
"At evalink, our vision is to empower users with the knowledge and tools they need to unlock the true potential of evalink. We have poured our hearts into developing comprehensive and user-friendly documentation that serves as a guiding light for our users, enabling them to embark on a smooth onboarding journey and build the alarm management platform they need. We are thrilled to launch the Documentation Hub. We cannot wait to witness what our users will build with evalink."