Cloud vs. On-Premise Alarm Management: Which is the right system for your Service Operations Center (SOC)?
Before the rapid adoption of cloud-based systems, the world of security relied on physical technology to transmit and store large amounts of data. The on-premises system was the ultimate and paramount solution, deemed the most secure and robust system that Service Operations Centers (SOCs) could rely on. But times have changed across all industries – especially the security industry.  
As more and more alarms and events flow daily in panic rooms, efficiency is becoming a significant challenge for SOCs. Choosing the right tools to ensure future-proof business continuity is a crucial decision. So, cloud vs. on-premises alarm management: Which system is right for your operations? Let's jump right in. 
Making informed technology decisions for 
efficient security operations
Today's SOCs can decide between cloud – or Software as a Service (SaaS) – and on-premises solutions for almost every element of their security operations, including servers, storage, updates, security, enterprise resource planning (ERP), and now also alarm management platforms. Both options have advantages and disadvantages but also some essential differences. To help you make an informed decision, we have highlighted them below: ⁠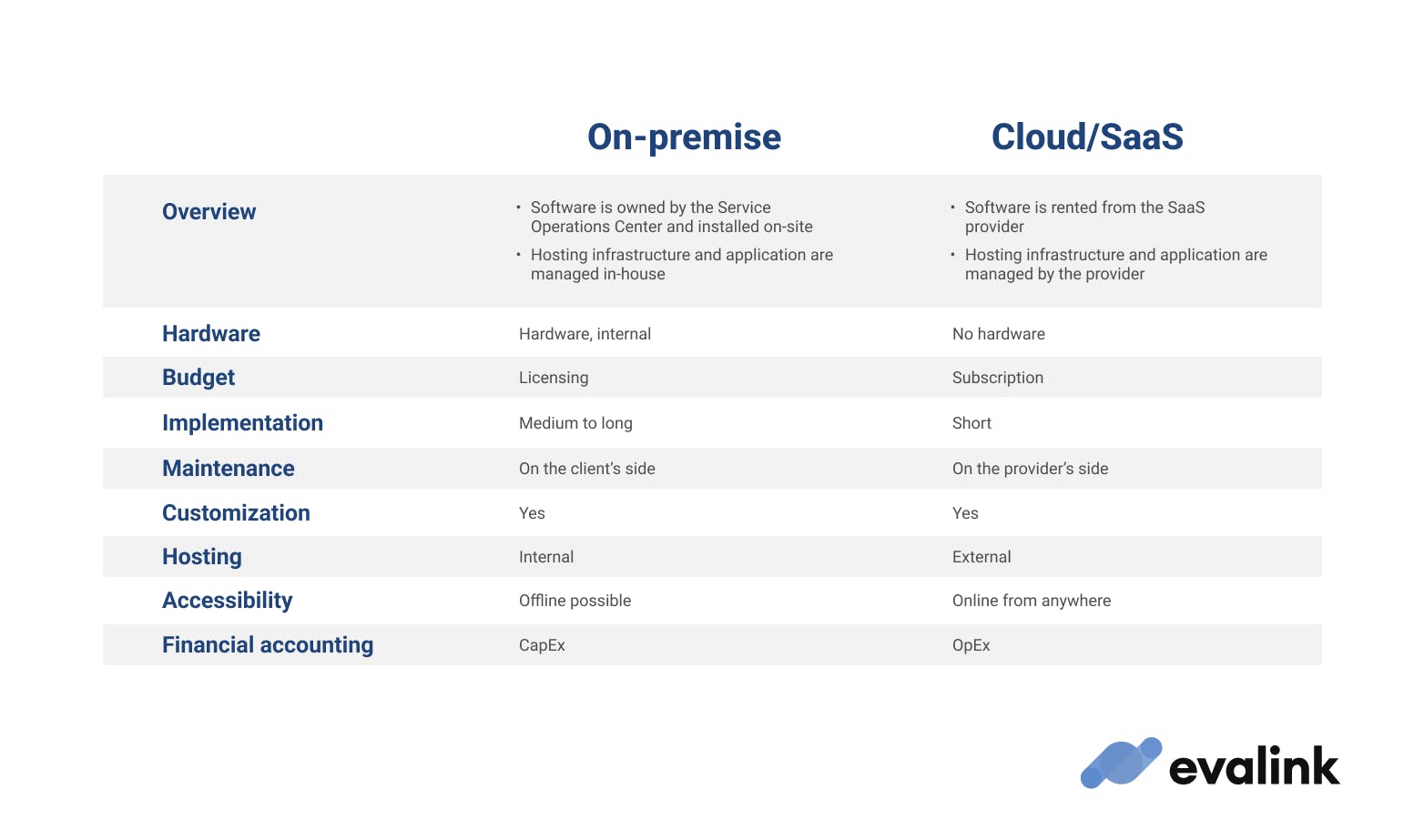 ⁠Security and Data Protection
SOCs running their on-premises alarm management platform are responsible for setting appropriate user access policies, installing firewalls, integrations, and antivirus software, ensuring functioning security patches, and guarding against cyberattacks. This degree of flexibility and control has advantages but can also be a double-edged sword.
For a SOC with adequate IT resources and support, an on-site solution provides peace of mind that data is always secured. On the other hand, if an on-premises solution is poorly managed and resources are not allocated, it can leave a SOC vulnerable and inefficient in the long run.
Cloud-based solutions can be more secure because a provider with specialized expertise can manage the infrastructure centrally. Most reputable cloud-based alarm management solutions run in secured data centers by companies such as Amazon Web Services (AWS), which gives SOC additional security layers to protect data. FINMA states in an ISAE 3000 Type 2 Report that AWS's control environment is appropriately designed and implemented.
Across the industry, SaaS providers are intrinsically motivated to offer best-in-class cybersecurity since a good reputation in data security and privacy is business-critical. If data and services are at risk, clear processes define how data breaches are dealt with. The difference between a SaaS provider's failure to protect your data/privacy and your IT department is that your provider usually has more workforce to mitigate the problem. Also, you usually have more leverage over your SaaS provider in compensation. ⁠If you switch SaaS providers or want to exit a contract, you might ask yourself how you will get your data back. SaaS providers typically offer more migration and import/export tools than traditional software providers. A good SaaS provider will provide an open API to export your data in a form that another SaaS provider can import.
Budget 
Using cloud technology and entrusting experts with the off-site hosting of your security operations may yield financial and administrative benefits. Outsourcing the management of your back-end infrastructure eliminates the cost and hassle of rack storage, power, and hardware servers at the site and the need for specialized software or highly specialized computers. On-premises solutions require in-house server hardware, software licenses, integration capabilities, and IT employees to manage and support potential problems, increasing the base investment and recurring costs. Cloud-based systems eliminate this cost challenge for security systems with a subscription fee for the platform (often monthly based). After installing a cloud-based platform, there is no need to worry about recurring maintenance activities and hardware upgrades because the provider handles all the data exchange and storage processes.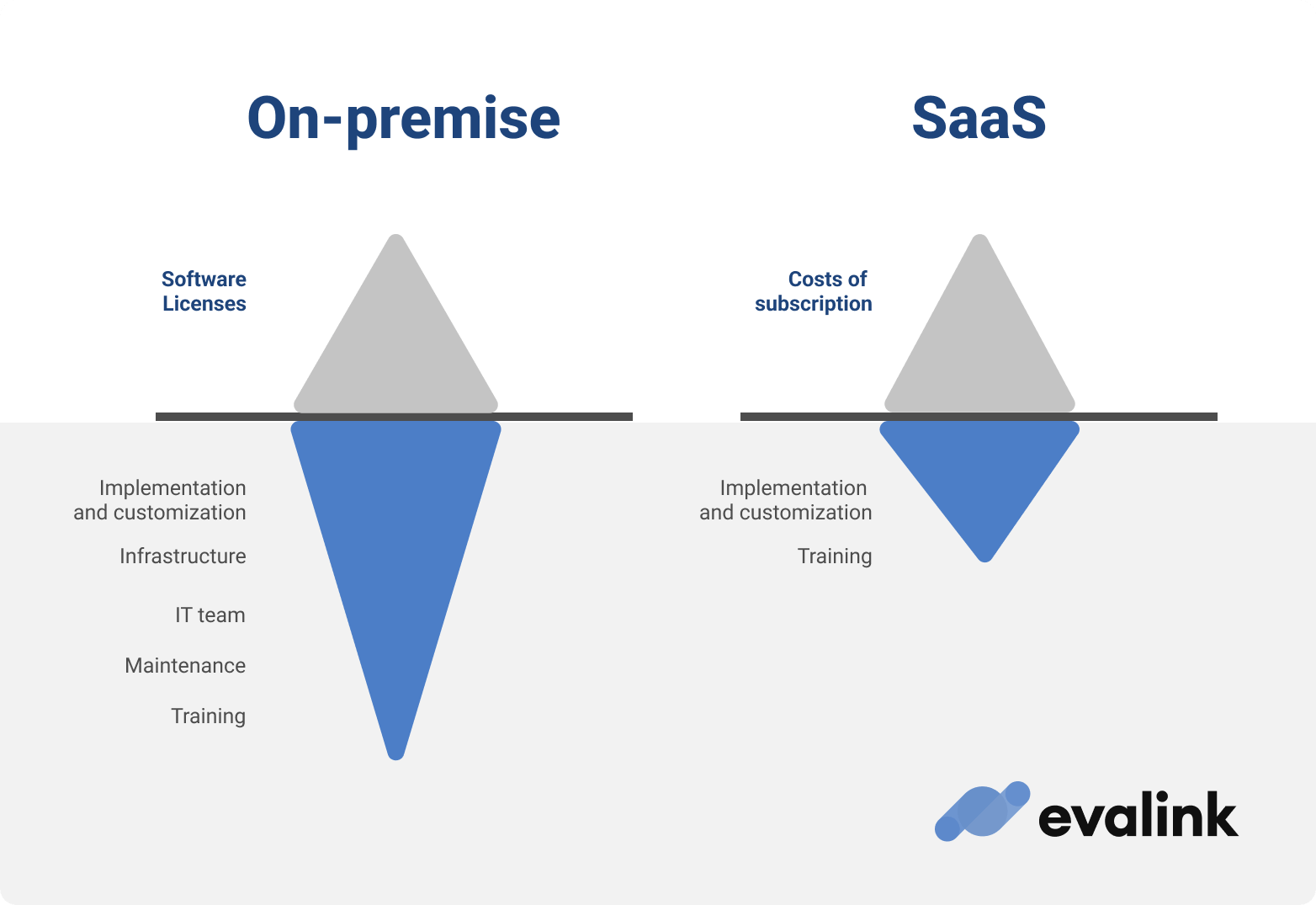 In addition, on-premises technologies are considered capital expenditures (CapEx), while access to cloud platforms is an operating expense (OpEx). The security enterprise pays the total cost of technology upfront, and the value decreases over time. With on-premises solutions, SOCs have greater flexibility and more ability to change their existing IT services than they would with cloud-based solutions. Ultimately, however, the cost of an on-premises server and the cost of a cloud system could offset each other, as the lack of a monthly fee compensates for the high upfront cost of on-premises platforms. However, maintenance and replacement of equipment can drive up the ongoing cost of on-premises systems, as the following figure shows:
⁠⁠Technology 
On-premises solutions can be updated as needed, but this requires resource allocations and lengthy, costly developments. Cloud-based alarm management platforms use digital technology to host data backed up regularly, and SOCs only pay for the resources they use. The ones that plan aggressive expansions globally will benefit from the cloud as it makes it easier to connect with partners, customers, and other third parties across the security chain.
One constant is that technology continuously moves forward. Today's technology can often be obsolete as soon as it is implemented – which is valid for on-premises solutions. With cloud solutions, SOCs always use the latest version of the innovations available for their security operations with no downtime during upgrades or releases. This way, cloud solutions are "future-proof."
Uptime and Availability
Every SOC wants maximum uptime of its operating system and computing infrastructure to provide stable and reliable customer services. The main difference between cloud-based vs. on-premises alarm management systems is that on-premises data remains in-house, no internet connection is needed, and the data is always available. However, cloud-based platforms are likely more reliable as they are highly redundant and guarantee uptime. 
Since assets and people are behind each incoming alarm, having a reliable alarm-receiving system guarantees real-time monitoring. Operating data securely and reliably is an incredibly complex task often underestimated. For data consistency, auditing, and more, synchronizing time across all servers is critical: Whether through your in-house IT team or a third-party provider, you should be able to determine, down to a fraction of a second, when data was accessed and by whom – across different sites, or even countries or continents. When a SaaS provider focuses on time synchronization, data storage, hardware failover, and network and data center infrastructure instead of yourself, this leaves your workforce with more capacity to focus on building and improving your business.
Scalability 
Scalability is an area where cloud-based platforms have a clear advantage. When SOCs with on-premises platforms experience a jump in connection needs, they have no choice but to invest in expensive new infrastructure and allocate IT resources. And, when the needs decline to previous levels, they remain stuck with too much capacity.
The cloud is much more scalable without significant investment in new infrastructures or upgrades because the provider allocates resources to meet demands at any given moment. That means SOCs may choose to pay on an as-needed basis and effectively scale down or scale up their operations depending on their business growth and usage.
Efficiency 
As an alarm receiving center, reporting an alarm (which most on-premises systems offer) is not enough. It is also important to respond appropriately. A cloud-based platform is flexible and complements all-inclusive alarm management systems. By externalizing your data to a cloud provider, security professionals gain more time to improve their day-to-day operations, responses to alarms, and the capacity to focus on other business areas while saving on costs.
Moreover, on-premises systems cannot be as mobile as cloud systems. Since an internet connection and a browser are the only requirements to access the data with a cloud system, this solution offers more efficiency.
Deployment and Customization 
With an on-premises system, the deployment is  in-house using the SOC's infrastructure and is highly customizable. 
Even though less customizable, cloud-based solutions are fully configurable, allowing Service Operation Centers to be up and running quickly.
Control 
Ultimately, who you entrust with operating your business-critical systems, your IT, or external data experts is a matter of trust. While on-premises systems allow complete privacy and data control because all data is stored in-house, multiple professional control mechanisms ensure security and 24/7 access in a cloud-based environment. A good SaaS provider will offer you complete transparency about where your data is stored: You choose which regions it is kept. However, there might sometimes be limitations to the locations available.
Cloud vs. on-premises alarm management system:
One-size-fits-all solution

?  

In the end, SOCs should explore available options to ensure the best solution for their unique needs while considering that any technology strategy requires an investment. When comparing cloud vs. on-premises platforms, it's essential to understand that it's an ongoing process that security professionals should manage.

Keeping all their data on-premises might feel more secure for most service operations centers. This level of security goes back to the ongoing debate and people's perception of the cloud. But that feeling of safety is archaic in the age of digitalization and interconnectivity. When a SOC wants to use modern tools like machine learning, artificial intelligence, and process automation, choosing a cloud-based platform for its alarm management is the right decision. ⁠ ⁠ ⁠

Ready to take your security business to the next level? Request a demo.
A guide to the digital transformation of emergency and service operation centers
26 Nov 2021
Read guide