A guide to the digital transformation of emergency and service operation centers
TLDR
Modern alarm management platforms can help address and solve challenges
Control centers focus on their core competencies and leave the operation to the selected partner
The challenge matrix is a decision support tool to determine if an alarm management platform is the right approach
Platform modules can be used for different scenarios, and migration to control centers can be designed individually and according to the level.
Migration is always a joint approach with the partner.
An emergency and service operation center faces various challenges in today's world. This guide explains which service operations centers a modern alarm management platform is suitable for and gives you a guide for deciding for or against an alarm management platform.
By reading this guide, you will learn what a modern alarm management platform must be able to do and which tool you can use for decision-making. Subsequently, we will show you a step-by-step migration of the existing infrastructure into a modern alarm management platform.
Today's
challenges of an operation center
Operation centers face a variety of challenges. Analog technology has disappeared, and the benefits of IP technology are changing how customer services are offered. Let's look at the key challenges that need to be assessed individually for each operation center.
Changing customer behavior
Customers are becoming more digital overall. Customers want to define and control their processes with apps on their smartphones. But they also want to be informed more transparently when there is an alarm or irregularities occur. Customers also demand on-demand services, such as additional protection for vacation absences. Selected and booked with the app, of course. They also want to integrate other existing systems to improve their security operations. Meanwhile, the number of activations is stagnating because intrusion detection systems are already controlled with apps that allow arming/disarming the system and sending alarms via push messages.
Communication with customers and installers
In most cases, communication with intervention service providers and installers is still done by phone or mail. Accessibility and logistics problems are inevitable in this process and often result in lengthy procedures and poor service quality.
Online sales channels
Today's customers gather information online before making a purchase decision. Therefore, being present on digital communication channels is a crucial success factor. Modern platforms offer such opportunities to pick up a potential customer at this level early to be advised professionally. One example is an intuitive digital questionnaire to help prospects understand possible services.
Stagnating number of subscriptions
Conventional alarm management software is not designed for integration with third-party systems. As a result, offering customers new services usually takes great effort, leading to price pressure for "me too" services. Additional pressure to change is exerted by alarm systems that are intelligently controlled with apps. This situation can lead to stagnating subscriptions.
Successful security companies focus on a specific customer segment that they provide with a specific solution. To achieve the best benefit for the respective segment, they use an intelligent combination of different solutions, e.g., real-time intervention, mobile security, or intelligent monitoring of open spaces.
Good, qualified personnel
Another challenge is to find good, qualified employees and retain them in the long run. There are many reasons for this. Because a control center must operate 24/7, irregular working hours are a stress factor as the many repetitive tasks completed in a control center do not promote job attractiveness. In addition, there is a high-stress factor triggered by many false alarms, often caused by misconfigured or mismatched systems.
Manual and repetitive activities
Alarm management today is often performed manually. All core processes, such as commissioning and configuring a new subscription, alarm verification, and triggering an intervention, are not at all, or only partially, automated. This generates costs that could be avoided.
High false alarm rate
The number of false alarms is up to 95% of all alarms received in an operations center. False alarms occur because alarm devices are incorrectly positioned or alarm systems are misconfigured. False alarms are a well-known problem in the security industry that an operations center faces daily.
System integrations
The security industry is becoming increasingly heterogeneous. Various systems such as video, access control, intercoms, intrusion detection systems, or fire alarm systems must be integrated into the alarm management system. This requires a variety of interfaces and protocols for receiving and processing alarm messages. The development of interfaces or protocols is demanding and time-consuming. It is common for a new integration to take up to 9 months to be included in the production alarm system. Therefore, management should always carefully consider whether acquiring an additional receiver is worthwhile.
System complexity
Due to changing customer requirements, the complexity of the overall system is increasing exponentially. In an operations center, several different systems from different manufacturers must be harmonized to provide service to the customer. The high system complexity is particularly noticeable in troubleshooting, as finding and fixing the causes quickly takes days. The basis for the excellent functioning of the systems in the operation of a secure and highly available data center by highly qualified personnel.
Here's a visual representation of today's critical challenges for an emergency call and service dispatch center. If your operations center faces challenges, this guide will help you overcome them.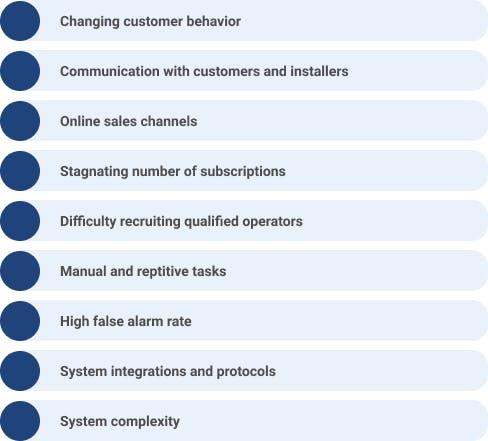 How does a
modern alarm management platform work

?

Modern platforms are explicitly developed for operation in the cloud. There is a big difference between systems specifically designed to operate in the cloud and those not. Migrating from a classic system to the cloud without an architectural change usually offers few benefits and is rarely cost-effective. Cloud-native platforms have an architecture tailored to the cloud. They offer significant advantages to the security industry in terms of security, availability, scalability, resilience, and cost. The platform operator assumes responsibility for it and handles all operational activities.
Platform Management
All essential elements, such as new functions, protocols, and interfaces for new systems, are continuously provided in a Software-as-a-Service (SaaS) business model. Availability is high because a cloud-native architecture can provide multiple redundancies. Data centers are operated by professional service providers who employ thousands of highly skilled people who do nothing but ensure the availability and security of data. The platforms are highly scalable, and operations centers no longer have to worry about the number of connections.
Communication Portals
Interactions with customers or installers are managed through digital portals, as the alarm management platform is the single source of truth. Information is readable or changeable on a role-based basis at any time. All processes, such as booking of services, billing, or presentation of the services provided, are mapped with the alarm management platform. Technicians have a whole range of useful tools at their disposal to efficiently connect and maintain the systems.
Marketplace for Security Systems
Modern platforms come with a marketplace that enables integrations with various third-party systems and presents the functions and benefits to facilitate the selection of suitable methods. Instructions will show you how to connect successfully to the alarm management platform in just a few minutes. Platform operators perform various integrations with third-party systems that make sense for a control center.
Automation
Alarms can be automatically verified due to intelligent action plans - in case of a real alarm, the right teams can then be informed in real-time with the critical content. Especially text/voice or video analysis functions offer entirely new possibilities for automation.
Certificates
Alarm management platforms forward alarms when the protection of people or assets is at risk. Certification institutes regularly test critical processes against standards so control centers can be confident that the platform is running smoothly.
The following certifications are recommended:
EN50136-1 Alarm transmission
EN50136-3 Alarm reception
EN50518 Annex C Control center standard
ISO 27001 Information Security
Here is an overview of a modern alarm management platform based on the value chain.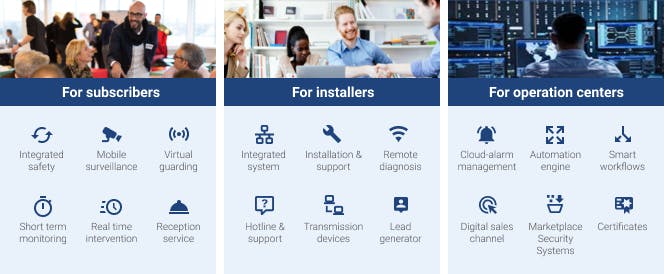 Decision support

for operation centers

As the person responsible for a control center, it is not easy to decide for or against a cloud-native alarm management platform. The importance/urgency matrix of identified challenges can provide information.

The challenge matrix is divided into four fields.
Latent challenges
The control center is aware of the challenges, but they are neither urgently addressed nor prioritized.
Operational challenges
These challenges are not critical to success but should be addressed by the operational team due to their urgency.
Passive challenges
The control center is aware of the challenges. However, since they are not considered urgent, they are not addressed.
Active challenges
The challenges were classified as to be overcome based on their importance and urgency. Active challenges can be identified because work is already underway to resolve some of them.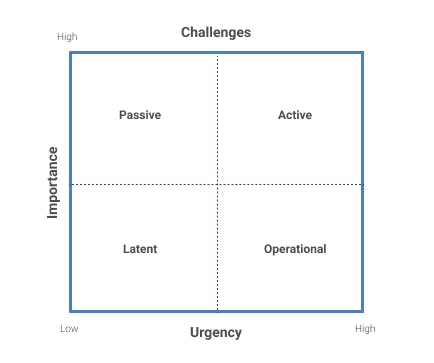 The number of passive and active challenges are important indicators that indicate choosing alarm management platforms. The more such challenges must be addressed, the more suitable cloud-native platforms are, as quick successes are achieved at high quality without large investments. The important and urgent challenges are solved sustainably. This means a control center is well equipped for the future because changing customer needs can be met.
Extra
tips
Tip 1: Cost comparison
An exact cost comparison between on-premises systems and alarm management platforms is not possible, as the total costs of an operations center would have to be compared with the services provided by a platform. In many cases, the total cost is not available. As a rule, operations centers with up to 5,000 connections save costs for innovations and neglect the systems' life cycles. For security companies with multiple operations centers, the entire infrastructure is built for each control center. Compared to a platform structure, this is a very expensive option.
Tip #1: A cost comparison should always be based on the total cost.
Tip 2: Cloud opponents
Many people are cloud opponents for various reasons, some of which are understandable. Nevertheless, we see that the number of cloud proponents is steadily increasing because the advantages over conventional systems massively outweigh the disadvantages. Customers particularly appreciate the greater convenience, better quality, and transparency.
Tip #2: Go with the trend.
Tip 3: Demo access to the platform
Modern alarm management platforms are browser-based. No hardware is needed as cloud providers power them. This means that demo access to the platform can be set up within minutes. This is the best way to get a first non-binding and undisturbed insight into a platform.
Tip #3: Try the solution yourself. Request a free demo with evalink.
Tip 4: Get references
Operation centers that already rely on alarm management platforms provide neutral information about the platform itself and cooperation with the platform service provider, which is an additional source of information.
Tip #4: Read customer stories.
Discover what our customers have built with evalink.
Migration

approaches

Different migration approaches are recommended depending on the operations center. The easiest way to do this is for a security sector company to set up a new operations center. These may be security services or installers who wish to offer the alarm management process to their customers.
Step 1: Analyze the service
As a first step, it is important to understand what services are offered to a customer segment. The most successful ones focus on one or a few services, such as mobile security with video towers, video surveillance of large open spaces, or best-in-class, real-time interventions using audio response.
Step 2: Edit the challenge-matrix
Based on the challenge-matrix, a specific implementation plan can now be developed in cooperation with the platform service provider. Modern platforms have a modular design that can be highly customized to meet the needs of an operations center. Here is an example.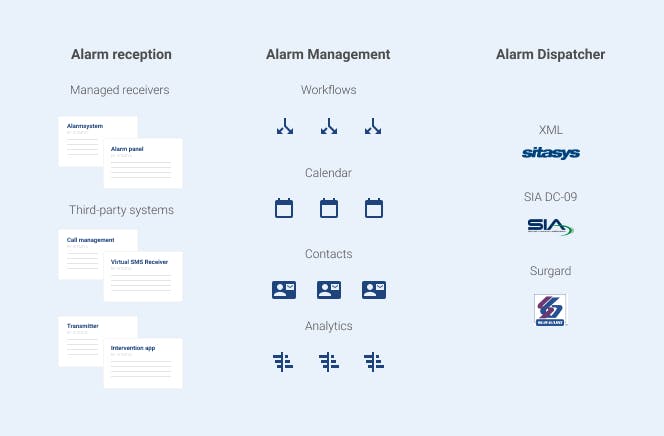 The figure shows that the alarm management platform is basically divided into three modules: alarm reception, alarm management, and alarm dispatcher. The platform can be deployed as a complete ecosystem. The use of individual modules in an existing system landscape is also possible. One possible approach is to modernize the alarm acceptance system and link the alarms to the existing alarm system with the alarm dispatcher.
Depending on the task to be solved, using the alarm management module and integrating the existing alarm receivers may make more sense.
Step 3: Joint implementation
Depending on the implementation plan, it may be necessary to transfer master data. This can usually be done automatically. Alternatively, a PDF scanner can be used to avoid manually entering the data. The joint implementation will be built directly into the training courses so that they can work autonomously with the alarm management platform.
Step 4: Optimization during operation
After implementation, some processes still need to be optimized. This will only be determined gradually in ongoing operations. As modern platforms are data-driven, interesting insights are emerging on how to make processes even more efficient.
Step 5: Support from the operator
The platform service provider is expected to provide competent and quick support in case of questions.
Ready to take your security business to the next level? Request a demo.