How to choose the right fire alarm system to better protect your business?
Protecting premises and people in the event of a fire should be every business priority. Fire alarm systems protect them from potentially devastating fires, and every second counts. A well-designed and installed system can alert you and the monitoring center in real-time, providing greater security and protection for your staff, property, and goods.
The better your fire alarm system is, the greater the security and protection you can provide for your business. To enhance and improve your premises' fire security protection plan, you should know the different fire alarms to choose from. Aside from the existing fire alarm system, selecting a reliable fire alarm transmission device is essential.
But with an extensive range of systems available on the market, it's not as obvious which system you should choose. So, let's dive in. ⁠ ⁠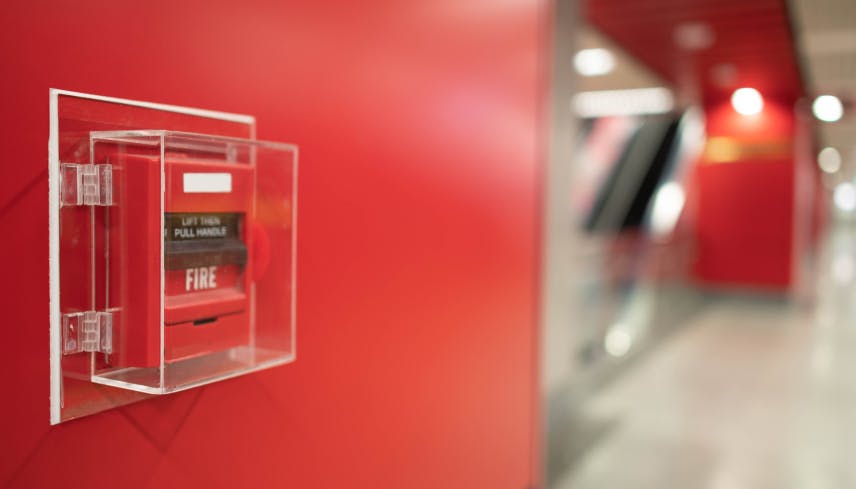 ⁠
Assessing risks and threats
No matter what type of fire alarm system or combination of systems you need for your business: When lives are at risk, your system must simultaneously prompt occupants to evacuate, send information to the monitoring center, dispatch emergency teams, and activate the sprinkler system or other extinguishing systems - all within seconds.
The selection of a system depends on various factors:
Size: How large is your building? How many levels are there?
Location: Are you in a remote area or a busy site?
Features: What specific features, requirements, and preferences should your fire alarm system have: Backup battery, voice alarm, etc.? Is the fire alarm system compatible with the building's security and alarm management system?
Jurisdiction: What regulations must your business follow regarding fire safety installations? Working with your local fire department might give you the answers, as regulations can vary between countries, districts, and cities.
The
different kinds

of fire alarm systems

The market is crowded with fire detection and alarm systems. Finding the right system for your commercial property is vital to a reliable system that protects your facility from fire. Every business is different, and so is yours. Depending on the building and risks, you may need one or more fire detection equipment. Ionization alarms, photoelectric alarms, dual-sensor alarms, air sampling, and simple smoke detectors can all be used effectively depending on the space and the likelihood of smoke, heat, or fire. ⁠ ⁠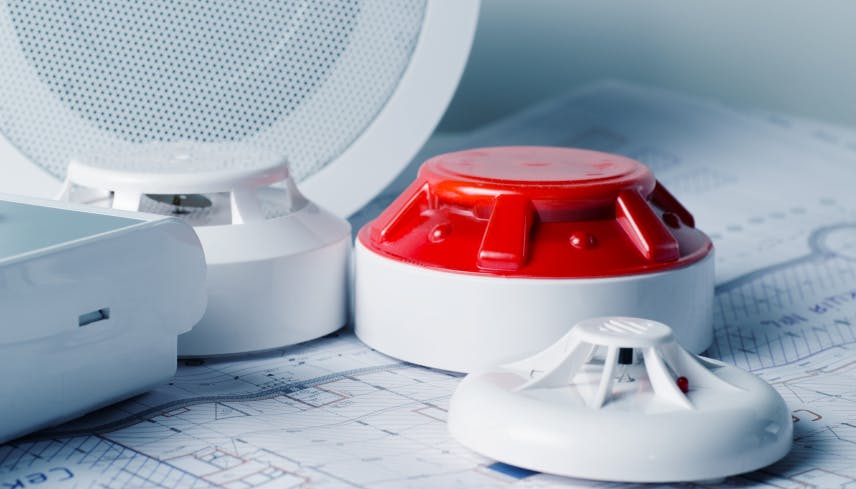 ⁠There are a few different types of commercial systems:
Conventional system: This initial system is commonly seen in older buildings and identifies a general area of the trigger zone. It uses analog signals to link alerting devices to control panels, each with a different wire, and divides the building into zones or sections to help the fire department know where to intervene. This system is cost-effective, reliable, and affordable, but the tendency to generate false alarms adds to costly fire department fines.
Addressable system: This system connects all fire devices with a unique "address" to the control panel through one wire. Because they use digital technology, addressable systems offer a much broader range in the types of information that the control panel can receive from the devices (e.g., how much smoke or heat the detector is sensing). This information allows the control panel to make better decisions, such as when or when not to go into alarm mode, and thus reduce the number of false alarms. The most important type of information that addressable systems transmit is where the fire occurs in a building. Because the exact location of each device has an addressable system programmed in, the responders know before they even arrive precisely where in the building the fire is occurring, which allows them to respond more quickly to a fire. Because they require less wire, an addressable alarm control panel can accommodate far more devices than a conventional system. They can have anywhere from one to 30 loops, commonly called a signaling line circuit (SLC), each of which can monitor and control several hundred devices.
Hybrid fire alarm system: This combines the conventional wired fire alarm system with features from the addressable fire alarm system making this an optimal choice for commercial properties.
Choosing the right fire alarm system
partner
One of the best ways to manage that task is to secure the services of the right fire alarm company. Here's what you should look for in a fire alarm system provider:
Range of products: You want to ensure you have a service that offers everything from smoke alarms in each area of your business to suppression equipment that minimizes damage and increases the odds of everyone exiting the building safely.
Certifications: The fire alarm specialists you're considering working with should be certified and be fully transparent about their certifications and accreditations.
Customer service: Choosing to do business with a provider who will periodically inspect the alarms, the suppression system, and even the fire extinguishers mounted in strategic spots around the building is a must. You'll find that the right company offers contracts ensuring everything is checked steadily, and repairs are taken care of immediately.
Remember that choosing the right company is not a decision overnight. Take the time to look closely at what the service offers regarding the best equipment, pricing, and support once the sale is complete.
The
price tag

of a commercial fire alarm system

The price will vary depending on many factors, such as the type of system, the size of the commercial property, and the system's complexity to be installed according to your business needs. When determining a total budget for a fire alarm system, you should consider both the initial installation costs and the maintenance and monitoring costs, which will vary depending on the type of system. ⁠ ⁠
Fire alarm: A shift towards
digital transmission
The pandemic left many buildings empty, increasing inspection lapses and leading to a higher risk of a life safety emergency. For many businesses, this accelerated the transition from POTS technology to newer technology like VoIP (Voice over Internet Protocol) or 4G and 5G networks. Digital alternatives allow for more remote testing and maintenance, which now fits a more remote world.
All analog addressable fire detection systems are hybrids of analog and digital technology. Smoke and heat detectors use analog sensing technology to monitor the buildup of heat and smoke activity and effectively picture what is happening. This analog data is then converted into a digital format for transmission to the control panel. In addition to using digital transmission to help reduce unwanted alarms, it makes systems more efficient and less costly, both from an installation and maintenance point of view.
Today, many property owners and building managers are switching to Internet and cell alarm signal transmission technologies to save money and switch before a rush occurs when POTS lines are decommissioned. Digital transmissions are also a more reliable and robust method to ensure alarm signals are transmitted quickly and efficiently with technologies that will be widely adopted across the industry.
The
evalink ipTNA4i

: A transmitter fit for the industry shift toward digital transmission

The ipTNA4i device by Sitasys transmits all sorts of alarms, including high-risk ones such as fire alarms. The device is certified according to EN 54-21, EN50136-2, EN50131-10, and VdS 2463 to ensure it fulfills even the highest demands. It features two transmission paths (Ethernet and 2G/3G/4G Mobile) which are both always connected to the evalink alarm management system. Its firmware can be updated remotely to ensure easy access to the newest features and improvements, which are being released regularly.

In its simplest form, an alarm can be detected digitally – open or closed. While this is the easiest way, this approach comes with caveats, such as losing alarm information. Transmission devices needed to adapt to keep up with the success of more complex systems in the alarm field.

Today systems are interconnected and make use of a variety of protocols to communicate. The ipTNA4i lets installers connect these systems to evalink talos easily and securely. This centralized approach maximizes the benefits by combining multiple systems' data. For example, suppose your fire alarm panel outputs additional alarm data on a serial interface such as RS-232 or RS-485. In that case, this information can be used at the alarm receiving center to gain vital insights about an alarm that just came in. ⁠ ⁠

Discover the evalink devices and request a demo🔥
How Integrated Access Control Systems Benefit Businesses' Security Operations
30 May 2022
Read article